Rain Is Leaking in Your Car Window. Now What?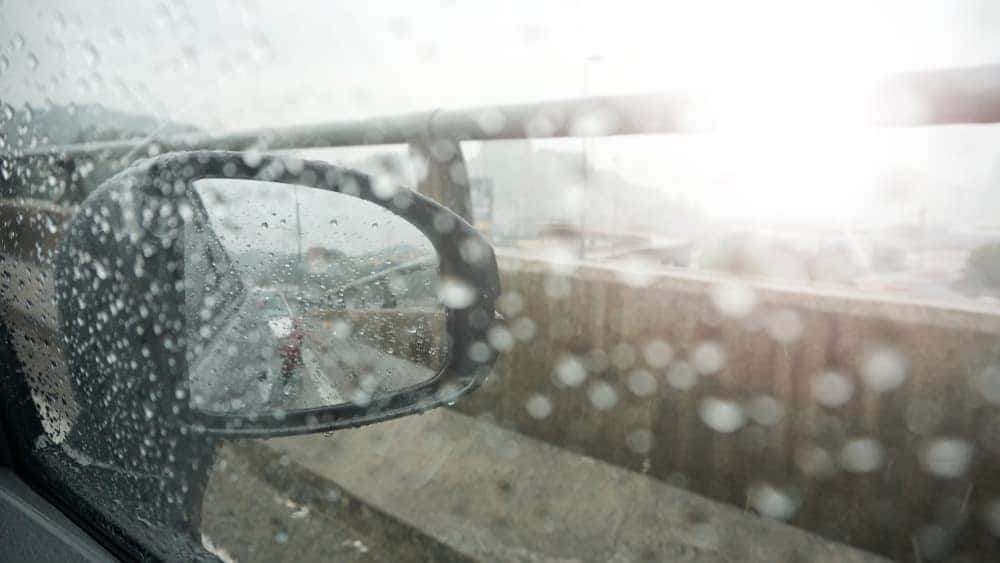 You're driving on a cloudy afternoon when it suddenly starts pouring rain. Your windows are already rolled up, but you feel some wetness on your arm. Then you see the water coming into your car. You double-check that the window is rolled all the way up. Great. You have a leaky window. Now what? Thompson Sales, your Ozarks GMC dealer, explains.
What causes car window leaks?
Two main things may cause your car window to leak: A faulty window seal or damage to the frame.
Faulty window seals typically occur when the rubber that surrounds the window becomes brittle or loose. This might happen with age, repeated temperature swings, or physical damage such as a puncture or tear. A visual inspection can determine if you have a faulty window seal during car maintenance.
Damage to the frame around the window may not be apparent at first. Let's say you got into a minor fender-bender a month ago. Your vehicle suffered some visual damage to the grill. But the shock of the collision may have caused additional damage to the frame of your vehicle without you knowing it. Your door may seem to close properly, but if there's a tiny gap in between the frame and door, it could let rain into the cabin.
How can I temporarily fix a car window leak?
The first thing you need to do is dry out your car thoroughly after you discover the leak. Standing water in your car can seep into the floor, causing mold or mildew to build up. Open the windows to let in more air. Consider a portable dehumidifier to make sure all of the moisture is gone.
Packaging tape can be a temporary fix for broken seams and seals. Clear packaging tape can shore up the car's window seals. Seam sealer may also work, but it's just a temporary fix as the water will find its way back in. These two temporary car maintenance tips should suffice until you bring the vehicle into the shop.
How can I permanently fix a leak in my car window?
There are two permanent fixes. Technicians can replace the window seal. They will remove the old one completely and put a new one in its place, which usually takes less than a day to accomplish. Our service techs will remove the old seals, use the right adhesive, and fit the correct replacement seals so your window works like-new.
The second permanent fix is more complicated. A damaged door may have to be removed and then hammered back into shape or replaced completely. If your car frame is damaged, technicians may have to repair the frame rather than the door.
Where can I take my car for maintenance in Springfield, Missouri?
Stop by Thompson Sales today if you have a leaky window that needs repair. Our world-class service department can get you back on the road in no time. We'll help you with regular car maintenance tasks or more complicated issues such as frame damage. Contact Thompson Sales or call (417) 763-6811 for more details.