Wash Your Car Yourself or Take It Somewhere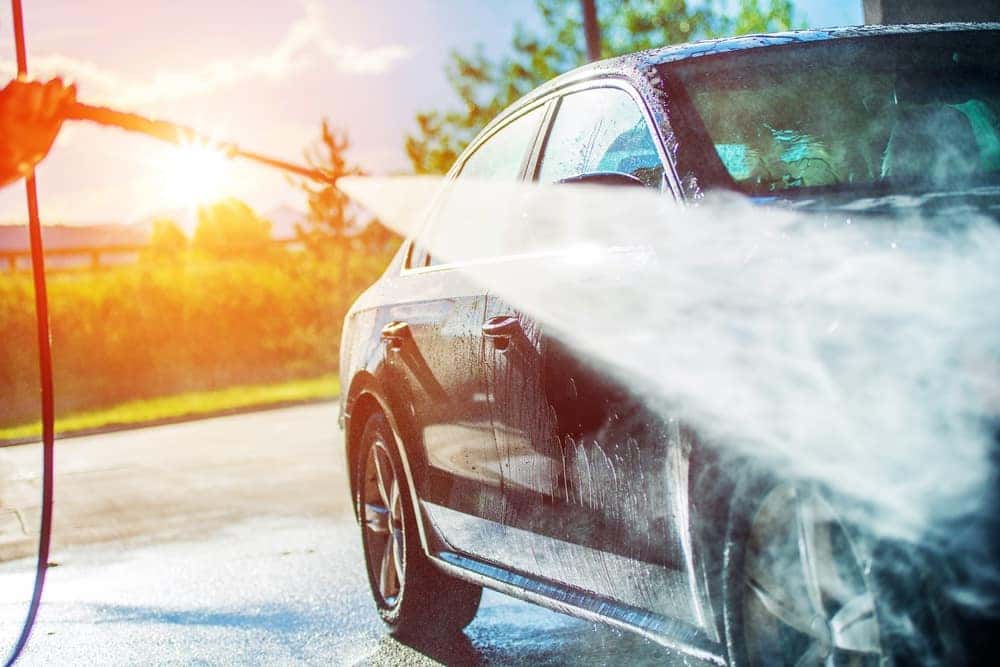 Having a clean car is a great feeling. Unfortunately, especially in winter, it can be hard to maintain. Sometimes it's easy to just run it through the car wash every once in a while. But is this the best way to keep your car clean? Today in the Thompson Sales blog, we'll talk about the differences between cleaning your car at home or bringing it to a car wash.
Cleaning Your Car at Home
Cleaning your car yourself has a lot of benefits, but there are definitely some downsides. Let's look at the benefits first:
Attention to Detail
If you're cleaning your car yourself, it's up to you how thoroughly you want to clean it. You can spend as much time as you want washing and waxing it, cleaning every little nook and cranny. 
It Can Be Fun
This may not apply to everyone, but some people love going outside on a nice day, turning on some music, and getting their car nice and clean. Your car looks great when you're done and you get a sense of accomplishment after completing the job.
It's Cheap
Unless you're waxing your car, your only cost is soap and water. It's extremely cheap to clean your car yourself.
Cleaning your car at home is sometimes the ideal situation, but there are downsides:
Weather
As we said, it can be satisfying washing your car on a nice, warm day. But a cold, cloudy day? Not so much. If it's winter time, you definitely won't want to wash your car outside. Or maybe it's an especially humid day in summer. Also not much fun. Unfortunately, washing your car yourself isn't always possible.
Time
If you want to be as thorough as a car wash, you'll need to spend a decent amount of time cleaning your car. A light wash would probably still take at least an hour.
Taking it to a Car Wash
Taking your car to a car wash is extremely easy and convenient. Let's look at the benefits of car washes:
Convenience
This is by far the biggest benefit. Taking your car to a car wash is super easy and takes hardly any time at all. In fact, you could do it on the way back from work. You can do it in any weather and you won't be tired afterward. The convenience of a car wash cannot be understated.
All Over Clean
Another benefit of a car wash is it can easily get places you may not be able to, like the undercarriage. When you visit a car wash, it's a pretty safe bet that most of your car (on the outside, at least) will be clean afterward.
So, those are the benefits. Now, here are some downsides:
Cost
If you want to take your car to a car wash, it'll cost you. Depending on the level of wash you get, it can get a little expensive, especially if you do it often. However, you can get a membership to a car wash to help mitigate the cost. 
Varied Results
Some car washes are better than others. If you go to a random car wash rather than a familiar one you've used before it might not be as thorough. Make sure to check online reviews before making a decision. 
Choose Thompson Sales for Your Vehicle Needs
If you're in the market for a new or used vehicle, choose Thompson Sales. We have a wide variety of cars, trucks, and SUVs to choose from. Come and visit our lot today to view our selection in person or feel free to browse our website to see if there's anything you like!